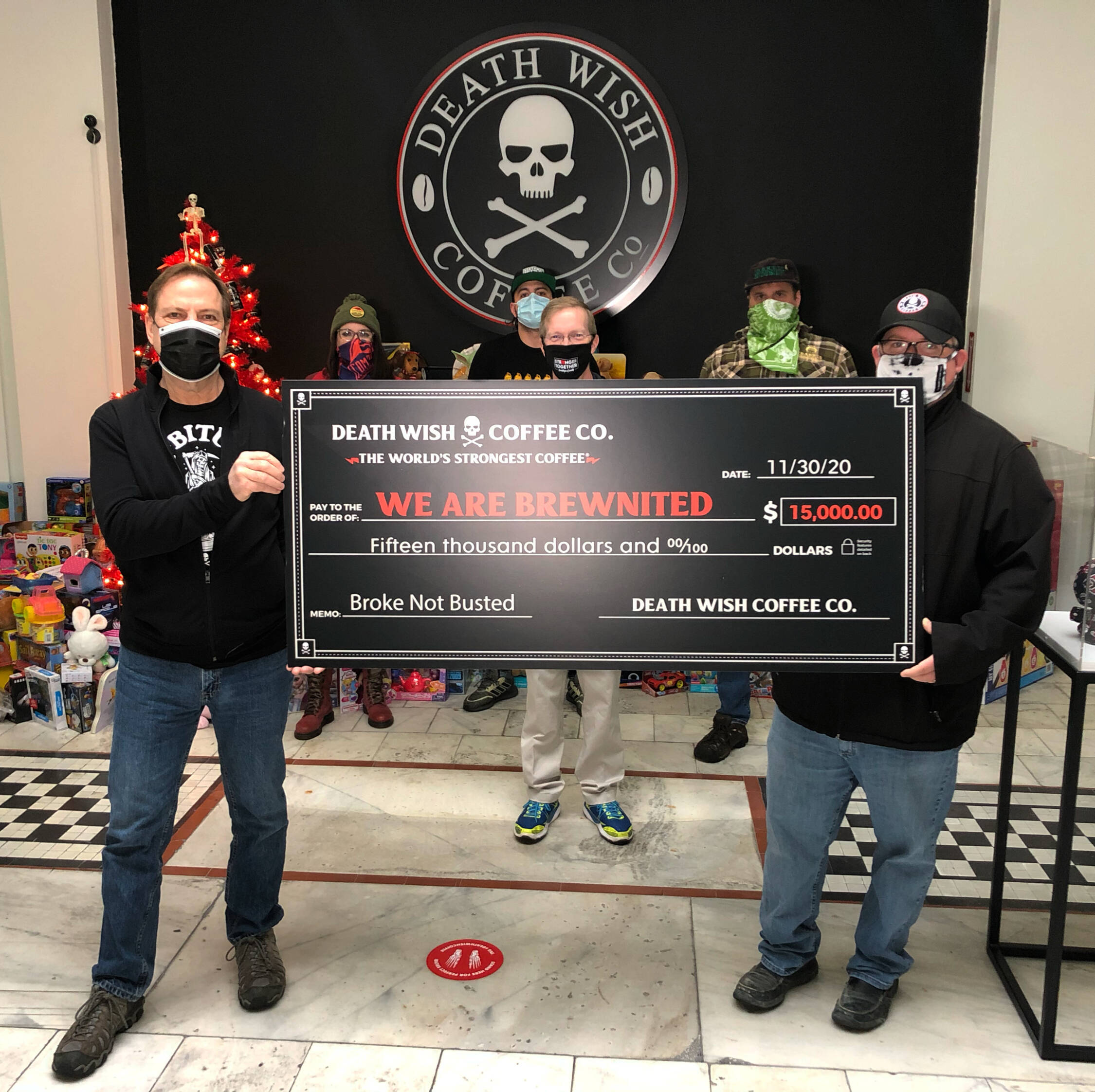 02 Dec

Northway Stands Brewnited this Holiday Season
Death Wish Coffee Co. Donates $15,000 to Brewnited for "Help for the Holidays" Fundraiser
A Check was presented to We Are Brewnited at Death Wish Coffee Co.'s Headquarters on November 30, 2020.
We Are Brewnited, a registered 501(c)(3), announced for the month a December the latest collaboration fundraiser for local service and hospitality workers: a Help for the Holidays direct payment program funded in part by a donation from Death Wish Coffee Co.'s Broke Not Busted program.
"Death Wish Coffee, through our Broke Not Busted Campaign, is excited to partner with and support Brewnited and their commitment to our local business community and tipped workers. It is vital to the long term stability, growth, and success of our community that we continue to support local independently owned businesses and their staff," John Swedish from Death Wish Coffee Co.
Last spring, in the midst of mass shutdown and unemployment as a result of the surge in COVID-19, six breweries joined forced and produced Negative Input beer. All profits were donated to out-of-work hospitality employees in Saratoga and Warren counties. The project was called We Are Brewnited.
Now, with COVID cases surging and more restriction being imposed, they are revitalizing the cause as a Help for the Holidays fund. This time expanding to include hospitality employees in Albany, Rensselaer, Saratoga, Schenectady, Warren, and Washington Counties.
Spearheaded by Northway's very own Max Oswald, he reached out to the other brewers at Adirondack Brewing, Artisanal Brew Works, Bolton Landing Brewing Co., Common Roots Brewing Co., Druthers Brewing Co., and Northway Brewing Co. to raise money to help hospitality workers whose work stability has been disrupted as a result of COVID-19.
"When the shutdown first happened, I remember feeling panic and fear for so many bars and restaurants I have dealt with over the years. What would they do and what would happen to their employees. The local brewing community united and was able to raise and distribute a bunch of money from the sale of our collaboration beer Negative Input, donations from individuals and from Ball Corp. As we head to the holidays and with their livelihoods unclear, the breweries are reconnecting and revving Brewnited. We are grateful to our friends and partners at Death Wise Coffee for their generous donation as they continue to be leaders of our community," said Max Oswald of Northway Brewing Co.
Visit www.wearebrewnited.com to apply for assistance. Applications will be reviewed and direct payments will be distributed between December 1 and December 22.
Direct tax deductible donations can also be made on We Are Brewnited's website. 100% of proceeds will go to Brewnited's hospitality workers fund.